A short spoiler-free review about a fantastic film that's fun for the whole family.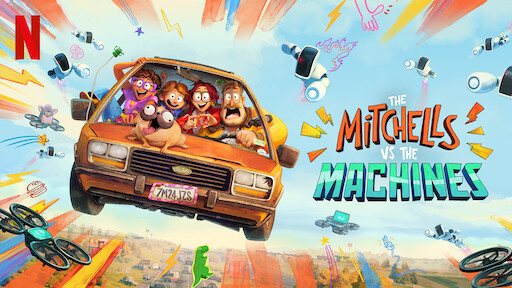 After Sony Animations released the masterful Spiderman: Into The Spiderverse, their potential as an animation studio was higher than it had ever been, almost making you forget that The Emoji Movie exists. their latest passion project, The Mitchells VS The Machines, is a robot apocalyptic, kick-butt comedic riot with vibrant animation, loveable characters, and a compelling core message about family and acceptance.
The Mitchells VS The Machines features our main character, Katie Mitchell, who is forced to go on a road trip with her entire family to travel to her college in California before attending the college of her dreams. During the roadtrip, they'll have to avoid dog kisses, confront family drama, and also stop the robot apocalypse.
Despite being an absurd sci-fi apocalypse movie, it is grounded with a strong, realistic emotional core, as father and daughter struggle to understand and relate to each other. While many movies attempt this angle, this is the first movie to get the complex family relationship right since A Goofy Movie. Not to mention that this movie is a comedic riot, with top notch internet humor. The comedic timing and rapid-fire jokes assure that if one joke doesn't make you laugh, another one's coming that's sure to knock your socks off.
Of course, not all of the humor is equal in terms of excellence, as some jokes come off as a bit outdated. The story is a bit too predictable. Not bad at all in any sense, but the ending and how we get to the ending is not a surprise, even if it's a fun ride. And honestly, the biggest criticism I have for this film is that the robots Eric and Deborah weren't in the movie enough, and I really could have used more of them. But at the end of the day, these critiques don't matter to me as much when there is so much love and passion poured into a film like this.
The Mitchells VS The Machines is a strong contender for the 2022 Oscars Best Animated Film award, as it blends action-packed, hilarious, heartwarming fun all into one beautiful package. An 8 out of 10 movie that I'm certain I'll watch over and over again.